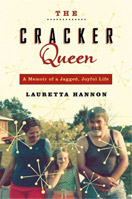 Lauretta Hannon, Author of The Cracker Queen - a soon to be reviewed book at the Dew - has some appearances coming up and I thought I would share them with you.
Two examples are:
August 16, 2009
The
Sole Sisters
Cracker Queen Party at
Lake Allatoona
2pm
Acworth, GA
For info please email:
Honey50@juno.com
Reservations required
This event benefits Goody2Shoes, a charity that provides new school shoes to kids in need.
September 12, 2009
Reading & Signing
Gwinnett County
Public Library-Five Forks Branch
Lawrenceville, GA
2pm
You can find more appearances
HERE
.
Look for the book review in August!!!!!